Edmonton Tree Services Experts
Edmonton, Alberta, is more closely connected to nature than most other cities because residents enjoy spending their time off enjoying various recreational activities such as campfires, golfing, fishing, and spending time in nature, especially the nature of their own property when it's received exceptional tree services.
Although everyone might have a different preference for how they want to spend their weekend, most residents can agree that taking advantage of the warm weather is their favourite. That's why the beauty in trees is so prevalent in Edmonton; people love nature. That's partly what makes Edmonton tree service so important. Making sure you have access to expert tree companies with professional arborists who can help with tree protection plans, proper care for your trees, and a professional level of planting is essential.
Making sure everyone can have beautiful, healthy trees is why Trusty Tree Services is the leading tree care service provider that offers a comprehensive range of services, such as tree removal, tree planting, tree pruning services, tree moving, stump grinding, and other tree issues. If you're looking for an Edmonton tree service company that will take care of everything you need, look no further. Contact our experienced team today!
Trimming and Pruning
Trimming and pruning are extremely important for maintaining the overall health and safety of trees. This type of maintenance is typically used to:
Improve a tree's structure
Increase safety by reducing branch failure potential
Clearance from roadways, buildings, driveways, etc.
Reduce shade and wind resistance.
Improve a view
Increase flower or fruit production
How is this achieved?
Removal of dead, damaged, and diseased branches
Thinning and reduction cuts
Raising for proper clearance
The site, time of year, species, size, vitality and maturity are all factors that need to be considered by an arborist that can affect pruning objectives. Improper cuts lead to decay and affect a tree's ability to heal the wound properly. In turn, it affects the health and vigour of a tree.
Tree Supply
Choosing a suitable species is essential if you have an aesthetic in mind. Unless you want to raise a species from a sapling, picking your perfect oak or maple at the right time is your best bet. An Edmonton arborist from our team of arborists can ensure you find the ideal option to match your needs and fit your residential or commercial property. Our inventory has everything, whether you need coniferous or deciduous trees. You will be fine with adequately planting a sapling and the difficulties involved with raising it; our team can solve these problems for you with our Edmonton tree service.
Pick the Right Tree
Instead of being at the mercy of whatever plant happened to grow on your property or what was planted by the previous owners, why not custom select your tree? With so many species to consider, why not simplify the decision-making process by viewing a large selection to evaluate them properly? With our Edmonton tree supply services, you can choose the species, size, price, and age that suit your needs.
Skip the Growing Stage
If you can easily decide on a species without evaluating them in person, there's just one problem: trees start as saplings and will take many years to reach a reasonable size and even more years to reach their mature size. Our tree supply services let you skip the early stages of raising a sapling to pick the exact size and growth stage you want.
Simplify the Process
When you choose a pre-grown tree, you only have to worry about what species you want and the size. This saves you a headache from researching if your soil pH can support a new sapling or if your chosen spot has optimal sunlight and space for roots. Instead, determine which species work best for you and let our expert arborists take care of planting it. We offer follow-up tree care after services to evaluate your tree's health and see if anything else needs to be performed to ensure a long life, like adding fertilizer or bracing crooked branches.
How Much Do Fully Grown Trees Cost?
The cost of a fully grown tree will vary based on a number of factors, such as the size, species, age, location, and how many are being purchased. It's also important to consider how much it will cost to transplant, deliver, and plant the trees.
The buyer can complete some steps to save money, but if you're already spending hundreds of dollars on a tree, why not pay a bit more to ensure it's adequately planted? Buying a mid-sized tree will be easier and cheaper than finding a full-grown one of a giant species. The homeowner can easily plant smaller potted trees, while mature, large trees with huge root balls need a professional with a tree spade to plant them correctly.
Tree Planting
Wondering how Edmonton tree planting can help you? As most residents of Edmonton know, having trees on your property has many benefits. If your property wasn't naturally blessed with healthy plants, you could easily add some now with Trusty Tree's tree planting services. We ensure your chosen one is a good fit for your home and take the necessary steps to make sure it lives a healthy and long life. There's a reason this is one of our most popular Edmonton tree services.
Benefits of Tree Planting for Your Property
Suitable for the Environment
More trees on the planet is a good thing for everyone. At a more local level, they can help protect against smoke or smog from nearby forest fires and reduce carbon pollution in the air. This will benefit you by helping you breathe outside. Don't deal with the adverse effects of forest fires; enjoy protection against smoke from the west during dry months.
Privacy
One of the main reasons for planting trees is that they provide shelter and privacy to your exposed home. Nobody likes to worry about neighbours or people walking outside being able to see inside their entire home when the lights are on. Sometimes a little privacy is beneficial to everyone. Not only will additional trees give you privacy, but they'll also help protect you against the elements.
Improve Your Home's Aesthetics with Trees & Shrubs
No one in Edmonton prefers a bare home with no trees surrounding it; instead, people like being connected with nature and want to incorporate beautiful spruce trees or shrubs into their property. Planting trees on your property provides the benefits a full-grown tree would, plus the choice of which species and where you want it located. Enjoy the shade in your backyard or a massive tree in your front yard.
When Should I Plant My New Trees?
Conifers can be planted any time early in the spring. An easy way to tell it's too late is if you notice that deciduous trees have revealed their leaves. You can also plant conifers in the later summer and fall, starting from around the first weeks of August to the end of October.
Deciduous trees can be planted in spring, starting when all the frost is out of the ground or during the fall time from when leaves start falling until the ground and other plants start freezing.
If you're unsure of what type of tree you have and want to be extra careful, early spring, right after the ground thaws, is a reliable time for planting any species. Trees have a risk of not taking root in the fall, making the planting process riskier. If you opt for fall for any reason, we recommend looking for trees with roots wrapped in a burlap bag instead of soil-free roots for fall planting, as these bare roots may not survive winter conditions. These ideal conditions for trees are what a certified arborist would recommend for new planting.
How Young Should the Tree I Plant Be?
We recommend that you plant as young a tree with a healthy, formed root system as your site in Edmonton will allow. Younger, smaller-sized trees have a more significant number of roots than older, larger-sized trees do. Trees rely on stored starches in their roots when transplanted until they grow enough roots to sustain growth; choosing properly aged trees is vital for survival.
Transplanting a bigger tree means it has to survive on its stored starches in smaller roots, making it more stressful for a larger tree to be transplanted. That's why in many cases, younger trees are recommended for tree planting. Property owners will have higher chances of a young tree thriving in Edmonton, AB.
How Close to My Property Line Can I Plant a Tree in Edmonton, AB?
The best way to avoid a legal or interpersonal dispute over property lines is to use caution, communicate properly, and follow all local regulations regarding planting trees near property lines. In general, if any part of your elm tree's trunk is on your property, you are the owner and responsible for the entire structure, roots and branches included. A plant on the property line is considered common property, and you and your neighbour are the owners. Thus, you can't legally and shouldn't plant a tree on the property line without permission from your neighbour. We recommend planting your next pine or maple 3 - 4 feet from those lines to leave room for future growth.
Tree Moving & Tree Removal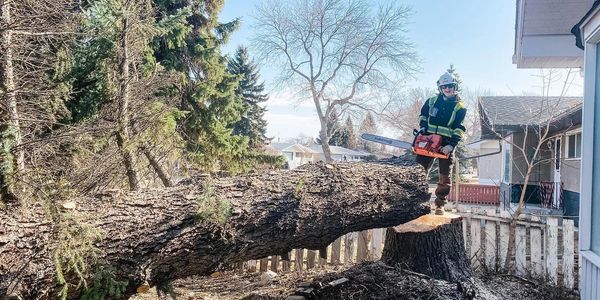 Do you have a tree that holds sentimental value to you or your family? Do you want the same tire swing you grew up on for your children? Or you want your custom-chosen tree to grow correctly and last long. There's a wide range of reasons you might want a tree moved, and Trusty Tree is here to help.
When choosing to move a tree, you want peace of mind knowing your tree will be moved appropriately, safely transported, and planted properly.
After our initial assessment, we evaluate the transport location to ensure the soil is suitable and has the proper pH to support the tree with optimal sunlight. We remove your tree using our truck-mounted spade to keep the rootball intact. It is then wrapped or tied, depending on its size and transported on a flatbed truck. Once we're at the desired location, a new hole is dug and the tree is planted again.
On the other hand, removing trees is often a very dangerous task. Our experienced arborists have been trained in order to remove all trees in a safe and effective manner. Whether it's a tree in a wide open space or a large tree in a tight space, we are able to remove them safely and efficiently.
Although we don't encourage the removal of healthy trees, sometimes it is necessary. There are several reasons why a tree may need to be removed:
They're damaged or decayed unhealthy trees
Poor structural integrity could cause them to become a safety hazard
Or aesthetics, perhaps a tree is becoming overgrown and taking over your yard
Trusty Tree Services has years of experience performing safe and effective tree removal Edmonton services and can take care to ensure your trees survive the move. We specialize in large, hazardous removals. Our company has the equipment and technical rigging to accomplish the most difficult and high-location projects. Our equipment and certifications allow us to work around power lines, buildings and hard-to-reach areas. Contact us to meet with an experienced arborist on site.
Protect Your Property
Trees are excellent at sheltering your property. Hail and other elements can cause damage to your siding, roofing, and windows. Moving full-grown trees to your property will protect your property against storm damage.
The opposite situation is also true. You may have a Spruce growing in your front yard that is getting close to some power lines. High winds can also cause branches to slam against your home. If you love the tree but are concerned it might cause inconvenient damage or electrical fires, tree moving can be your solution.
Relocate a Favourite Tree
If you've stared out the same window for a while now, or you've lived at the same house for a few years and have seen the same elm growing, you may have formed a bond with it. Perhaps you want to move that tree to an area where it can continue growing and thriving while you enjoy its presence. Luckily, Trusty Tree offers moving services to preserve your tree and ensure it's always in the best location.
Schedule Your Edmonton Tree Service Today!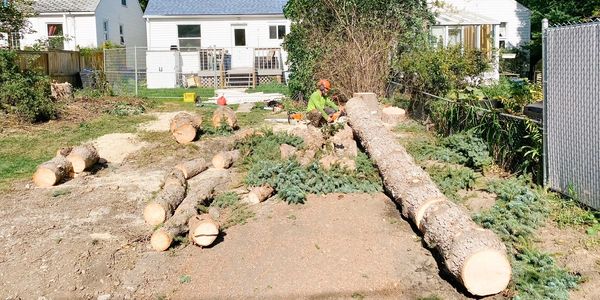 When looking for an Edmonton tree service company, you want tree experts with years of industry experience providing high-quality service in Edmonton and the surrounding area. Trusty Tree Services is a family-owned tree removal company located in Sherwood Park. We pride ourselves on hiring the best Alberta arborists, licensed and insured, to follow proper tree procedures and provincial laws and handle tree safety risks with fantastic safety records.
Our outstanding tree services are why we're the top choice among our residential and commercial customers, providing excellent customer service and dedication to customer satisfaction. Our experienced arborists have affordable tree care solutions for commercial business owners and all your residential tree needs. We offer services such as tree stump removal, tree cabling & bracing, tree trimming, pruning of tree limbs, infill removal, landscape and lawn care, deep root fertilizing, emergency storm responses, emergency tree services, and more!
With a passion for trees, we offer affordable rates, excellent customer experience, and an expert level of service performed by our ISA-certified arborists on all work, giving you peace of mind about your complex tree concerns.
Are you looking for a tree removal service in Edmonton, AB? Book your Edmonton tree service and call our experienced team at 780-860-5500 today. You won't regret choosing us for your professional tree care services.